System Example B: Clocking the Live console from an external source
Follow the instructions in

System Example A

to connect the stagebox(es) to the Master console.
Connect the Live console to the external 96 kHz clock source (or 48 kHz if running the console at 48 kHz).
Set the Live console's clock source to the desired external source from the Console Options page, as described in the main

Clocking

section and shown below.
Do not connect the external clock source to any other device in the SSL Live system; the Master Live console will distribute the clock to all other devices in the Live system when set up correctly.
For the more complex system examples below (multiple Live consoles, Blacklight II etc.), combine these steps (i.e. only the Master console clocked from the external source) with the setup required.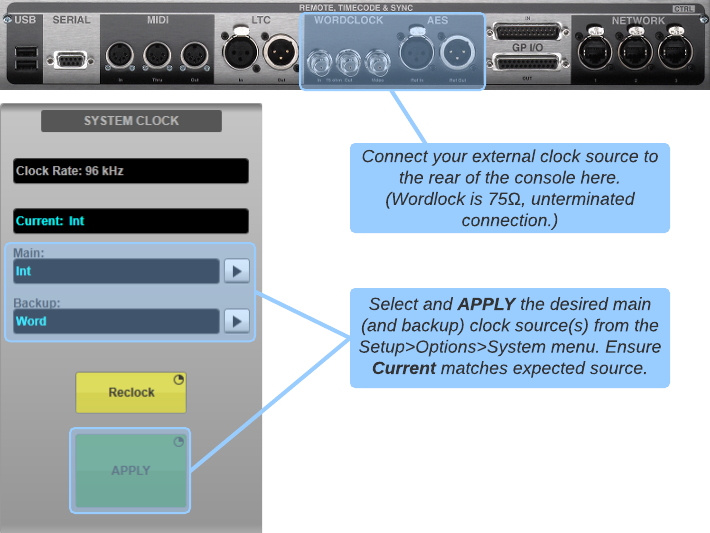 System Examples
Setup: Clocking - System Example A: Connecting stageboxes to a Live console via MADI
Setup: Clocking - System Example B: Clocking the Live console from an external source
Setup: Clocking - System Example C: Connecting stageboxes to two Live consoles via MADI
Setup: Clocking - System Example D: Connecting stageboxes to a Live console over Blacklight II
Setup: Clocking - System Example E: Connecting stageboxes to two Live consoles over Blacklight II
Setup: Clocking - System Example F: Connecting stageboxes to three Live consoles
Setup: Clocking - System Example G: Daisy-chained stageboxes for 48 kHz operation
Useful Links
Clocking
Index and Glossary