PREVIOUS: Local & MADI I/O Config
Multitrack Recording and Playback (Live Recorder Setup and Rehearse Mode)
Each Channel path of an SSL Live console comes equipped with Record Send and Record Return points at the top of the signal chain (post Input A/B selection, pre Trim). The Record Send point is always active for routing to a multitrack recording device. The Record Return point can be switched into circuit on multiple channels simultaneously, as described below.
Recording/Playback via MADI
The Live Recorder is intended to be used to record live events and has the ability to play back the recording for rehearsal mode 'virtual soundcheck' purposes. Any MADI device can be set as Live Recorder for this purpose.
Sends and returns to the Live Recorder are automatically routed to Input Channels pre-digital trim. Each Live Recorder must be assigned a device number from the detail dialogue. Since each MADI stream can carry 32 channels of audio (at 96 kHz), Live Recorder ID 1 will be routed to & from the first block of channels equalling 32 mono audio streams. Live Recorder ID 2 will be routed to & from the next block of 32 channels and so on. Stereo channels will take 2 of the 32 streams available, LCR channels will take 3, etc.
Once all full channel paths have been used, dry channels will be assigned to subsequent Live Recorder streams.
Examples:


64 mono channels: Live Recorder ID 1 will be routed to and from channels 1-32. Live Recorder ID 2 will be routed to and from channels 33-64.

Channels 1-8 stereo; channels 9-56 mono: Channels 1-8 will consume the first 16 streams of Live Recorder ID 1; the remaining 16 streams of Live Recorder ID 1 will be routed to and from channels 9-24. The remaining channels 25-56 will be routed to and from Live Recorder ID 2.
Up to eight Live Recorder MADI devices may be added to the I/O page, totalling 256 audio streams (up to 208 Full Processing Input Channels + 48 Dry Input Channels).
At 48 kHz, the number of channels routed to each Live Recorder device doubles to 64.
Note:

The audio streams recorded correspond to the channel order by channel number (i.e. as they appear in the overview and console configuration pages and in system layers), which may be different to how the Input Channels appear on the Fader Tiles and also may not correlate with the inputs on the stageboxes as this is dependent on how the console has been set up.
Recording/Playback via Dante
A Dante Expander Module may also be fitted to the Live console. This adds up to 64 channels of Dante I/O to the console (dependent on sample rate).
Select the Dante Expander Module from the left-most column in the I/O page (MENU > Setup > I/O > Local/MADI Configuration). You will be presented with options for the Dante Expander in the lower portion of the screen. The Recorder ID buttons operate in the same way as the Live Recorder interface described above (automatically routing the record sends/returns of blocks of channels to the Dante port), with the exception that the Free Route button allows the Dante I/O to be freely routed within the console routing system. Select the appropriate recorder ID to assign the Dante Expander Module as a Live Recorder device.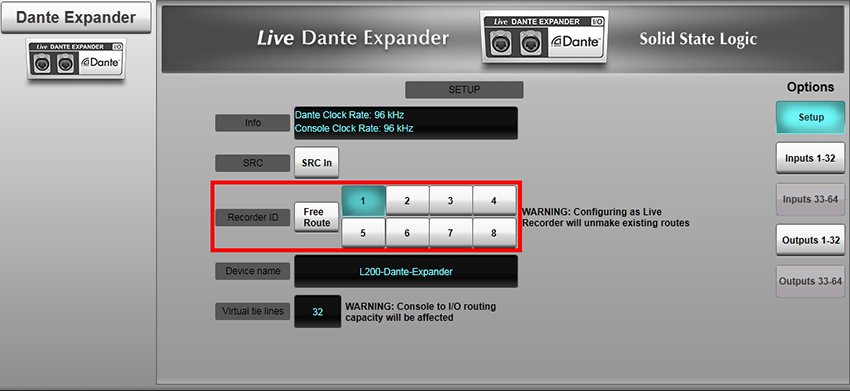 For more information on setting up Dante, Net I/O Stageboxes or a BLII/X-Light Bridge, please see I/O Setup: Dante.
Rehearse Mode (Virtual Soundcheck/Playback)
Rehearse buttons are available from the User Options page (MENU > Setup > Options > USER tab). These allow playback of recorded audio through the channels from which they were recorded, allowing engineers to test the system or performers to rehearse alongside previous performances. Each Live Recorder has its own Rehearse button, allowing blocks of 32 (or 64 at 48 kHz) channels to be switched in and out of Rehearse mode. A Global Rehearse Mode button (press & hold to activate) is also available to switch all Live Recorders in and out of Rehearse mode simultaneously.
Per-device and Global Rehearse Mode functions can be assigned to User Keys. Global Rehearse Mode may also be accessed through the Event Manager.
Note:

Rehearse mode can also be triggered from User Keys; see the

User Keys Options

section.
Rehearsal mode is always indicated at the very top of the screen, towards the left-middle of the status bar, either with a

icon when one or more Live Recorders are in Rehearse mode, or

icon when all Live Recorders are in Rehearse mode.
Note:

The Record Sends remain active at all times. This means that 'live' signals from stage will continue to be sent to the recording device, even when in Rehearse Mode.
Useful Links:
Local/MADI I/O Configuration
Setting Up Dante
Installation Guide
Index and Glossary
NEXT: Setting Up Dante