PREVIOUS: Channel Control Tile
Master Tile
The Master Tile in the bottom right corner of the control surface is used to perform the global functions summarised in the illustration below: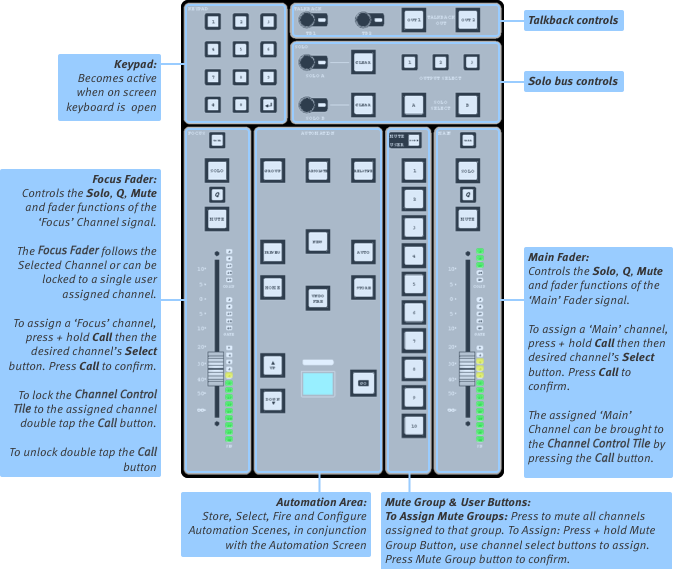 Keypad
The keypad in the top left can be used to enter numeric values; the return key duplicates the OK button in the on-screen keypads.
Main Fader
The main fader normally follows the first Master path, but it can be assigned to any path.
To assign the main fader, press & hold the Call button above the main fader until it flashes. Now Select the path you'd like to assign. Press Call again to complete the assignment.
The Call button can also be used to select the path assigned to the main fader.
Mute & User Buttons
The Mute/User buttons can be toggled between Mute Groups or User keys using the Mode button.
The User buttons are assigned to the following functions by default, but can be changed in the User Options page:
Tap Tempo for FX Rack 1
Tap Tempo for FX Rack 2
Tap Tempo for FX Rack 3
Tap Tempo for FX Rack 4
Tap Tempo for FX Rack 5
Tap Tempo for FX Rack 6

Automation

on main Screen

Overview

on main Screen

Effects

rack on main Screen

Matrix

on main Screen



The user buttons can also be accessed from the Channel Control Tile:

Press the Home button on the Channel Control Tile then select the User Buttons option from the Home screen.

Use the on-screen buttons or press the rotary encoders adjacent to the on-screen buttons to activate the user buttons.

The Focus Fader is described in the previous tutorial, and the remaining elements of the Master Tile will be covered over the next few tutorials.
NEXT: Mute Groups