PREVIOUS: GUI Principles
Showfiles
Your configuration is saved into a showfile. Showfiles may be copied to USB for use on other SSL Live consoles.
Showfiles are managed using the Showfiles menu, accessed by touching Menu > Setup > Showfiles: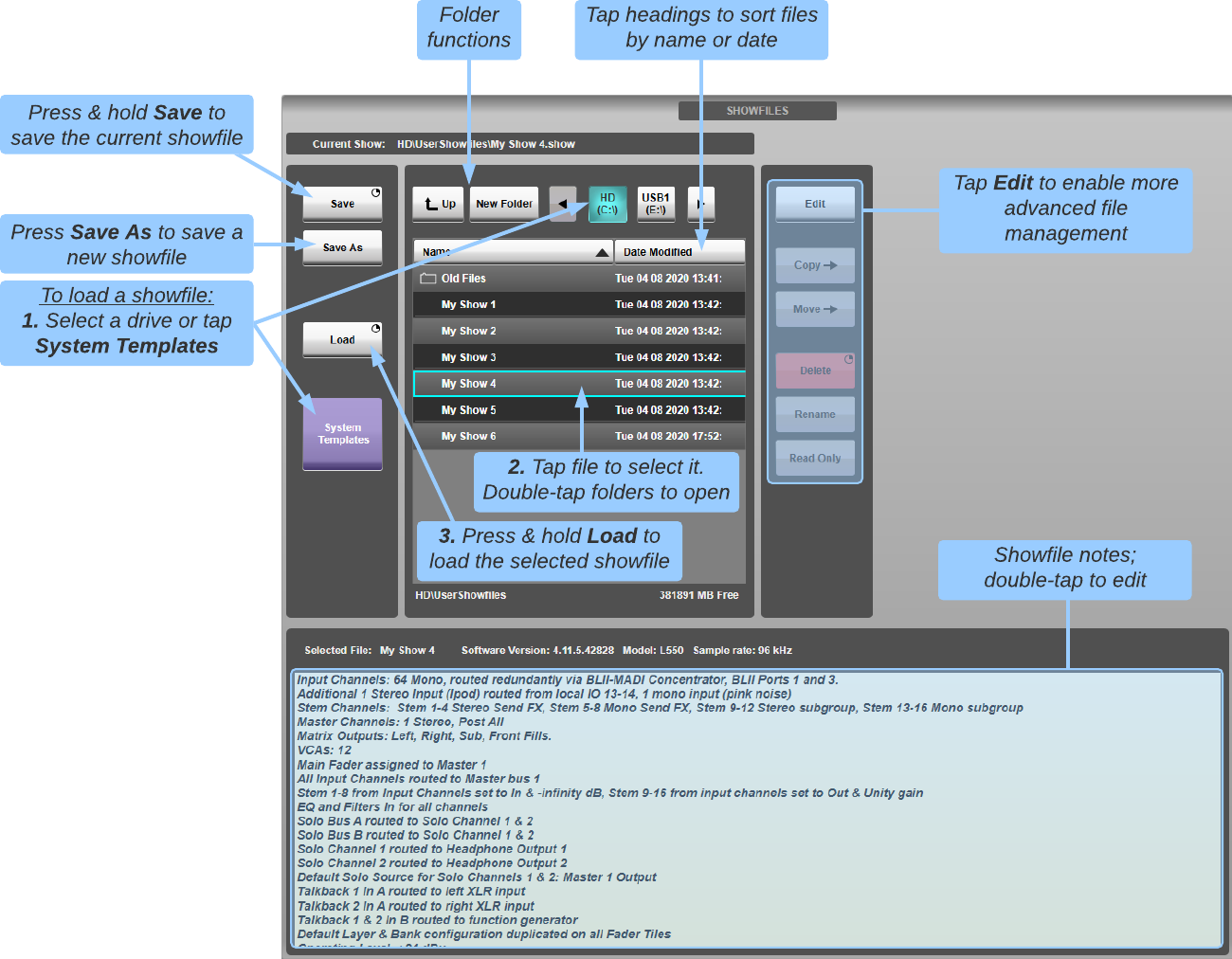 Templates & User Showfiles
Templates provide a starting point for your first showfile. Touch the purple System Templates button to see templates. Templates are read-only.
To access your showfiles, ensure that System Templates is inactive. At the top of the list, select the HD or USB drive. Swipe the screen to scroll the drive contents list.
Note: USB drives should be used for file transfer (copy) only. Loading or saving shows directly to USB is not recommended due to the risk of drive removal mid-operation. Please Copy or Move to and from the internal drive before loading and after saving respectively.
Note: USB drives may be removed after any progress bars have disappeared.
Folders appear at the top. Double-tap folders to open, and touch Up to move up a level.
Touch a showfile to select it.
When a showfile is selected you have three options:
Press & hold

Load

to load the selected show.
Press & hold

Save

to overwrite the file (applies only if currently active showfile is selected).
Press

Save As

to create a new showfile. This new showfile will become the active show on the console.
To create a new show, load an existing show or Template showfile to use as a starting point and use the Save As function once customised.
For details regarding the contents of SSL templates, please refer to Setup: Show Management.
The Edit button enables the functions underneath it; these are described in the Showfile Management system menus help section.
Edit must be inactive to load and save shows.
Touch here to view further details on loading and saving shows.
NEXT: Channels & Paths