PREVIOUS: Channels & Paths
Fader Tiles
Tile buttons are backlit when they have a function available; they are lit with a colour when that function is engaged. If a button is not lit, then it likely does nothing in the current mode.
The layer and bank area on the right selects which paths are controlled on the faders.
Quick controls (three switches and encoder) at the top operate a variety of parameters, as assigned to them via the tile arrows or on-screen channel display. We'll look at Quick Controls in Tutorial.
The Screen button assigns that Fader Tile to the main screen.
The Q, or Query, button collects all paths sent to and from that path and brings them onto the other Fader Tiles. This is perfect for quickly addressing monitor mixes and making adjustments to sends:
For a Channel or Stem, all the Stems, Auxes, and Masters it is sent to, plus any VCA(s) controlling it.
For an Aux, all Channels and Stems feeding it, Masters it is bussed to, and any VCA(s) controlling it.
For a Master, all the Channels, Stems, and Auxes feeding it, and any VCA's controlling it.
For a VCA, all paths under its control.
If there are more paths Queried than fit on the tiles, the additional paths will appear on new banks in those tiles.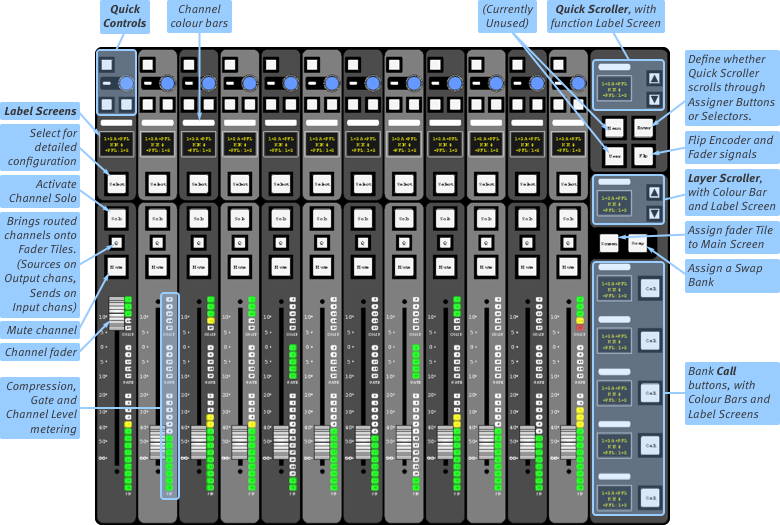 NEXT: Layers & Banks