PREVIOUS: Fader Tiles
Layers
Each Fader Tile addresses up to five layers, each layer contains five banks, and each bank has twelve faders. That makes for up to 60 unique faders per tile!
There are two types of layers, system and user:
System layers contain every path type in the showfile. Think of system layers as the raw material for building your user layers. System layers are accessible in the Layer Manager or via the

Layers

button in the Channel View display, but they cannot be directly called on the physical control surface.
User layers are the layers you access on the physical control surface. Each Fader Tile may have a unique layout--you may arrange the console exactly how you prefer at any time, live!
Note: User layers are configured and named in the Layer Manager, detailed in Setup: Layers.
Banks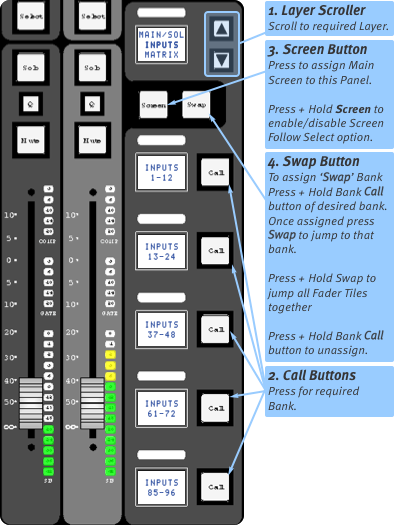 The five layers can be scrolled using the Up and Down arrows on the tile. The banks within that layer will be shown in the scribble displays near the call buttons.
Press Call and that bank's paths will appear on the 12 fader strips.
A bank may not automatically appear in the main touchscreen. Press Screen to assign that tile to the main screen. Press & hold Screen to toggle screen follows selection (Screen button lights green when enabled).
Tip: Screen will also call the Channel View if you are in another touchscreen menu.
Swap Bank
Swap can act as a shortcut to a bank of your choosing. To enable swap, press & hold the Call button of a bank until it briefly flashes. This is now the swap bank.
The Swap button can be used to quickly access that bank. This is useful to go from two important banks that may be within different layers.
Holding the Swap button swaps all Fader Tiles that are in the same swap state simultaneously.
NEXT: Channel View