PREVIOUS: Signal Routing
Channel Control Tile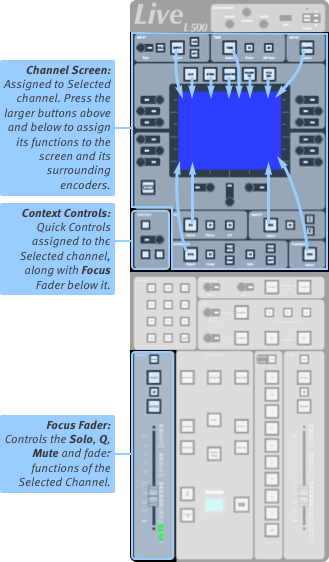 The Channel Control Tile consists of the Focus Fader (on the Master Tile), the Context controls, and small touchscreen and controls around it.
The Focus Fader and Context controls simply follow path selection and Quick Controls functions respectively.
Tapping any level control on the main screen will also assign it to the Context controls.
The Channel Control Tile touchscreen provides an alternative way of adjusting path parameters.
Press the large function buttons (EQ, Dynamics, Pan, etc.) to select that parameter to the screen.
Press & hold the function buttons to assign that parameter to the Quick Controls as well as the Channel Control Tile screen.
Essential controls are provided by the smaller buttons around the function buttons.
The encoders around the screen control the displayed parameter adjacent to it. The screen may also be touched, swiped, or pinched to adjust parameters.
Focus Fader
The Focus Fader has three modes of operation:
Normally, it follows the selected path.
It can be assigned to an important path for quick recall, but still follows the selected path.
It can be locked to an important path permanently.

The Channel Control Tile can also be locked to this locked Focus Fader path. This is the Link Channel Control Tile function in

Menu > Setup > Options > Surface Tab

.
To assign the Focus Fader, press & hold the Focus Fader Call button until it flashes blue.
Press Select on the path you wish to assign. Press Call again to 'confirm' the assignment.
Once assigned, you can still select other paths, or press Call to 'recall' to your assigned path.
To lock the Focus Fader, first assign the fader per above. Then double-press Call. It will turn green to indicate lock.
Home Button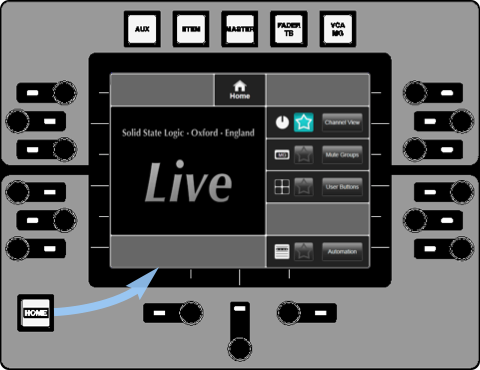 Home accesses these functions:
Channel View shows the parameters of the selected path (as described above).
Mute groups shows mute group controls. These are in the following tutorial pages.
User buttons show the ten user buttons. 1-6 are tap tempo rack functions. 7-10 are shortcuts to automation, overview, effects, and matrix menus.
Automation shows the list of the scenes.

See automation in the reference for details

.
The

icon on the touchscreen allows that menu to be stored as a shortcut.
Press & hold the Home button to recall the stored menu.
Note:

The brightness controls are used to control the brightness of the screens and switches. See

Console and User Options

for further details.
NEXT: Master Tile