Solo
Just like most other paths in the console, there is full signal processing on the Solo output channels. Note, however, that Solo channels cannot be part of Mute Groups or VCA Groups, and cannot be routed to Stems, Auxiliaries or Masters.
Note:

The number of Solo Output channels is fixed, and is in addition to the main 'Paths' capacity of the console. There are no Dry Solo Channels. (see the

Channels and Paths Tutorial

)
This page describes the features available in the Solo Output channels. The operation of routing signal to the Solo Outputs from within the console are covered elsewhere in the Help system, however an overview of this procedure is described below:
Configure each channel's sends to the Solo buses in the

Fader

page of the channel's Detail dialogue (see

Channel Solos

for details);
Press the

Solo

buttons in the Fader Tile channel strips to activate each channel's feeds to the Solo buses;
To change which Solo outputs are being fed from each Solo bus, press the relevant

Solo Select

A

/

B

button in the

Solo

area of the Master Tile and switch the outputs on and off using the

Output Select

1

/

2

/

3

buttons above them.
Press the

Solo A

and

Solo B

encoders to switch the bus outputs on and off, and turn the encoders to adjust their levels; The

Solo

display near the bottom right corner of the Channel View screen indicates the level trim for each solo bus.
Use the Solo Channel fader and path processing to configure each Solo output to its relevant application. Refer to the

Channel Processing Reference

section for further information on available processing options.
The diagram below outlines the complete structure of the console's Solo facilities: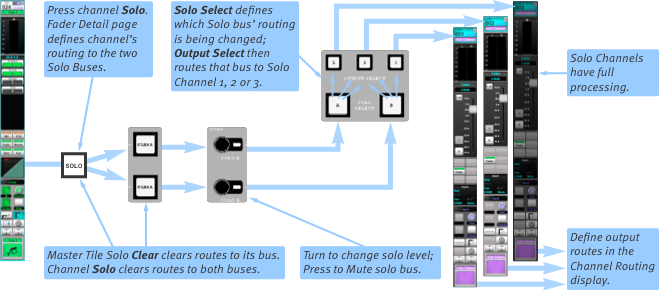 See also the Monitoring modules available in the Effects Rack.