Channel Sends: Channel Detail
The Master, Stem and Auxiliaries pages of the Detail dialogue provide an expanded view of the send routing available using the Quick Controls. You can open each page by double-tapping the Quick Display with the relevant Assign button active:








A display similar to the below will appear: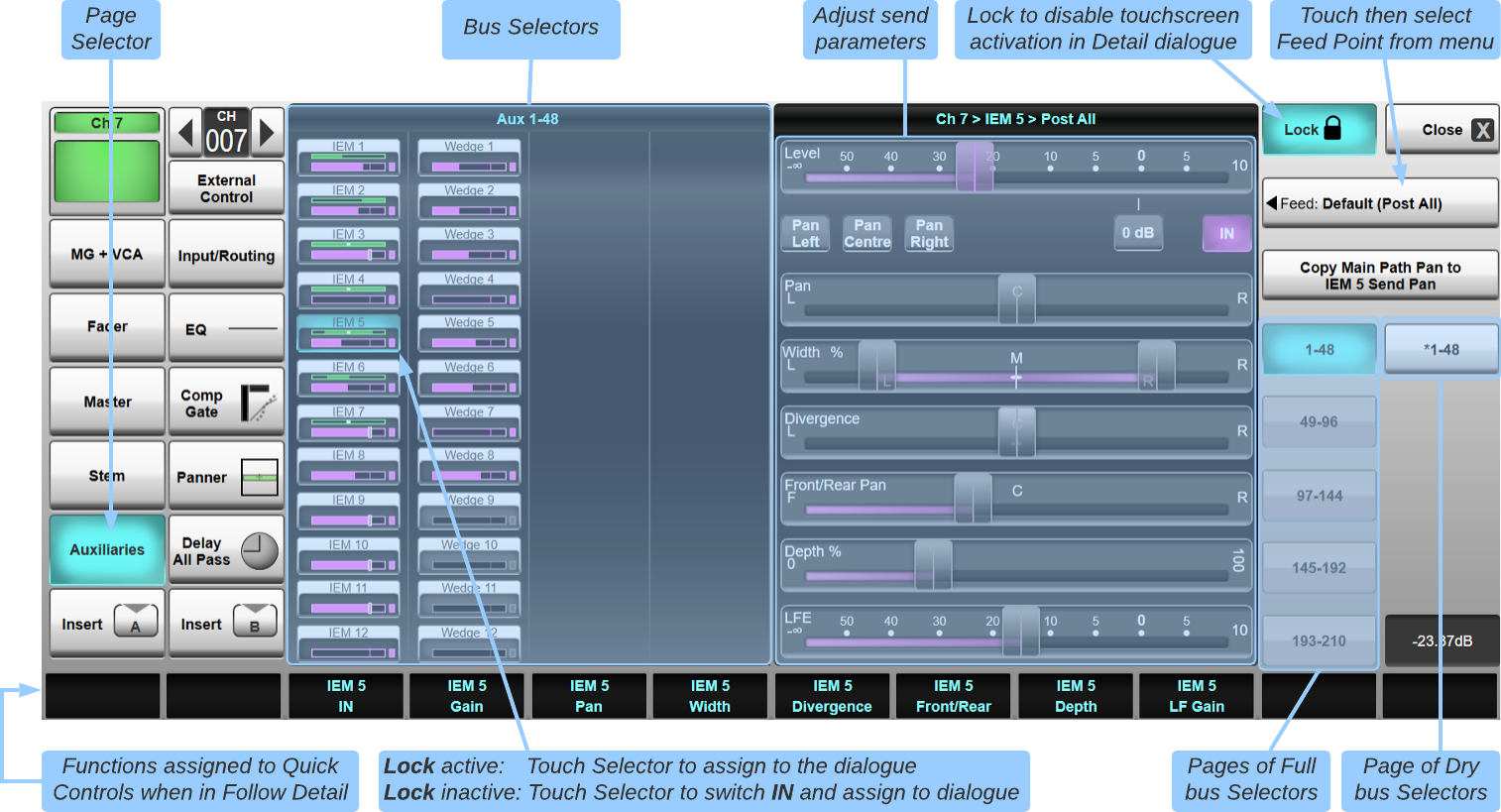 Notes:


The buttons down the left of the dialogue define which Detail page is displayed. Touch

Master

,

Stem

or

Auxiliaries

to view the desired bus type.

The Channel Scroller (near the top left corner) can be used to scroll the dialogue to a different channel.
Bus Selectors for all buses of that type will be listed in the left half of the dialogue. If there are more buses than can be displayed at one time, use the numbered buttons in the right edge of the dialogue to select which page of Selectors is shown.
The Lock button in the top right of the dialogue defines what happens when a Selector is touched:
If Lock is active, the Selector is simply assigned to the dialogue and Quick Controls;
If Lock is inactive the Selector is assigned and also switched in/out.
When a Selector is assigned, sliders for any available parameters are shown in the right half of the screen. These can be dragged with a finger on the touchscreen or adjusted using the Quick Control assignments beneath the relevant labels at the base of the screen. Press the 0 dB button to set the send level to 0dB. Press the IN button (or the Upper Quick Control button under the In label) to switch the send in and out.
Note:

IN

is the only control that is displayed in the right side of the dialogue when configuring Sends to Master buses.
You can select the selected bus feed point for this channel by touching the Feed: button below the Lock button, and selecting the source from the menu which appears. The options are as follows:
Sends to Master Buses:

Default

,

Post Fader

(before any processing elements which have been placed after the fader) and

Post All

(after any processing elements which have been placed after the fader);
Sends to Auxiliaries:

Default

,

Pre Fader

and

Post All

;
Sends to Stems:

Default

,

Pre Fader

,

Post Trim

,

Post Ins

ert

A

,

Post Ins

ert

B

,

Post Fader

, or

Post All
Note:

When Sends are sourced from the Default point, they follow whichever setting is set as the default in the Console Config Setup screen. See

Setup: Console Configuration

for details.
Touch Close (top right) to close the Detail dialogue.