Channel Meters

Channel meters are shown at the top of the on-screen channel strip, and to the right of the physical fader.
By default, input channels are metered post-trim and output channels are metered post-all (including fader).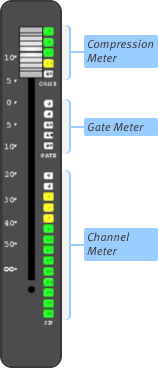 To view an expanded version of the on-screen meter, double-tap it. The meter will expand to cover the Selector area.
Note:

The small meter display is a compact version of the expanded meter; the meter range is the same for both displays.
Dynamics gain reduction is shown on the Fader Tile.
Meter settings can be adjusted in the System Options page, as described in
Setup: Options
Note:

The Overload LED of an Input Channel will light when the physical input clips, regardless of the meter source selection.