Quick Controls
Head amp and trim controls are available directly on the Fader Tile Quick Controls. Tap the top section on the main screen or press & hold the Fader Tile's Quick Control Up arrow to assign the Input section to the controls.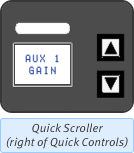 Press any Quick Control encoder to cycle through the three available pages: Analogue, Digital and Routing view.
In the analogue and digital pages, the context display shows gain, trim, phantom, pad, polarity, etc, where applicable. The top of the main screen displays analogue gain in red or digital trim in blue when their pages are active.

In the analogue page, the keys available are 48V, High Gain Sensitivity, and Pad. The encoder controls analogue Gain.

In the digital page, pre-trim Solo and Polarity are available. The encoder controls digital Trim.
Note: Analogue controls are available when an analogue input has been routed to the channel. Digital trim is available on all Channels, Stems, Auxes, Masters, and Matrix output paths.
Routing provides a quick view of existing channel input and output routes in the context display across the middle of the main screen. The keys switch between

Input A

,

Input B

and

Output

routing views. Note that the keys do not switch between Inputs A and B; this is done from the

Input Detail dialogue

or the

Channel Control Tile

.
Note: All channel direct outputs are post fader. Route the input or an insert send for prefade direct outs.
Double-tapping the context display area will open the Input/Routing Detail dialogue. (See Input Configuration: Main Screen)