Channel Detail
You can configure a Channel's inputs in the Input/Routing page of the Channel's Detail dialogue, opened by touching the top section of the Channel then double-tapping the Quick Display:





A display similar to the below will appear: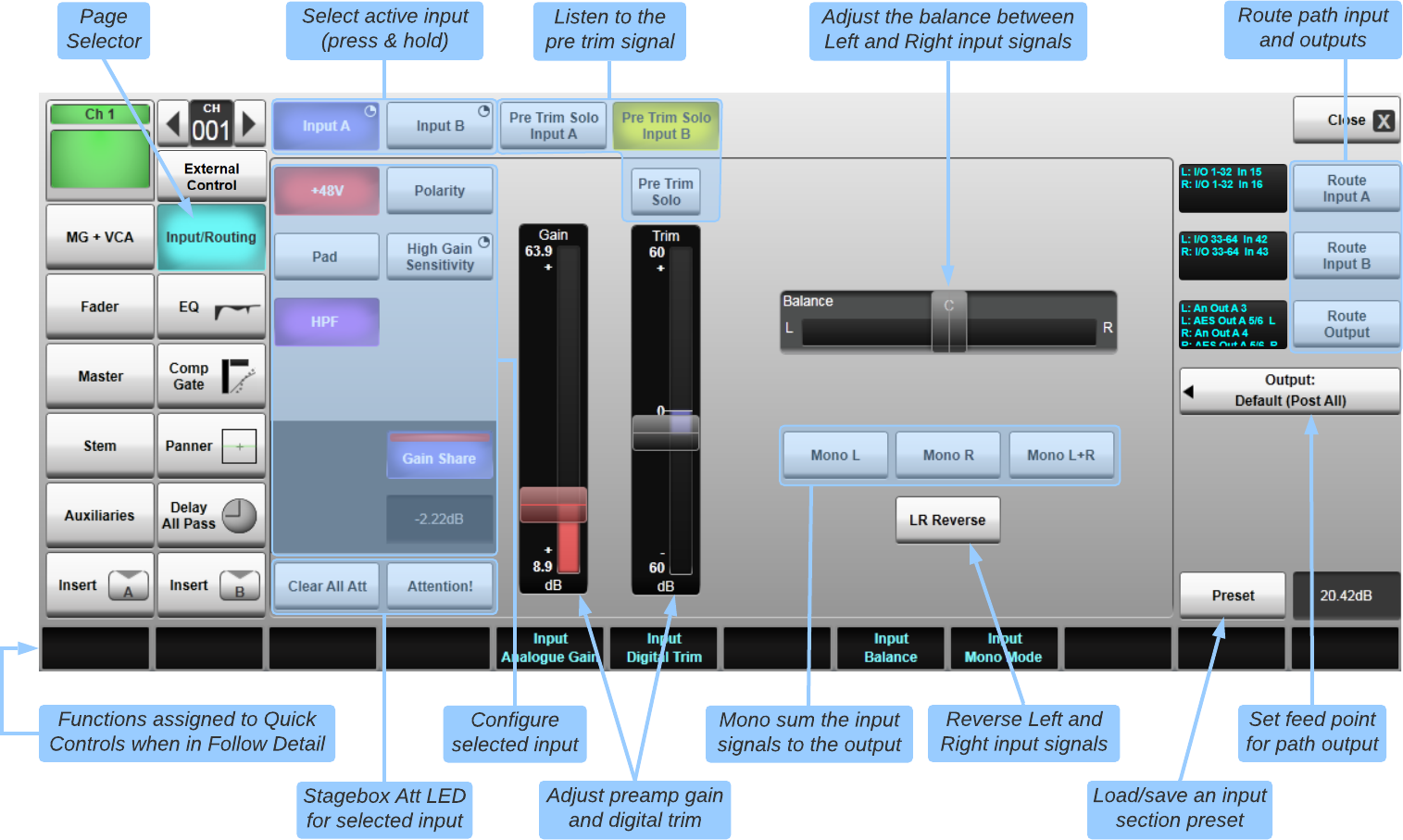 Notes:


The buttons down the left of the dialogue define which Detail page is displayed. Touch

Input/Routing

if it isn't already selected.

The Channel Scroller (near the top left corner) can be used to scroll the dialogue to a different channel.
As each Channel has two inputs, ensure that the correct input's button (Input A or Input B, to the right of the Channel Scroller) is lit blue. It it isn't, press & hold the correct button.
You can use the Pre Trim Solo Input A and Pre Trim Solo Input B buttons to audition the incoming signal before switching inputs. The Pre Trim Solo button solos whichever input is currently active (Input A, Input B or the Live Recorder Record Return if in Rehearse Mode).
In the main part of the dialogue there are controls to turn on +48V phantom power, insert the -20dB Pad (used for mic/line switching), activate the analogue HPF (70Hz High Pass Filter) and also invert the input's Polarity (called 'phase' on many consoles). The High Gain Sensitivity button increases the input sensitivity of the preamp by +15dB for particularly quiet sources.
Note:

Controls which are not relevant to the input type will be greyed out. If you haven't routed an input yet, go to:

Tutorial: Routing.
You can then adjust the analogue gain using the Gain control and introduce a digital signal Trim using the sliders to the right of the input buttons.
The Balance control becomes active on stereo channels and adjusts the level balance between the Left and Right input signals.
The Mono L, Mono R and Mono L+R buttons can be used to reroute the incoming Left and Right signals to the remainder of the channel processing. For example, the Left input can be routed to both halves of a stereo channel if the Right input becomes noisy. Alternatively, a stereo keyboard channel could be configured in a festival situation, but certain acts may only bring a mono keyboard, in which case the Mono L button can simply be pressed without the need to reroute or reformat the channel.
Tap Route Output to route the output of a channel.
The output feed point can be adjusted by tapping Out Feed: and choosing one of the options (Post Trim, Pre Fader, Post Fader and Post All).
The default output feed point of an Input Channel can be customised in Menu > Setup > Options > System tab. New Input Channels will be created with the default output feed point.
Touch Close (top right) to close the Detail dialogue.